Equip your boat with industry leading L1+L5 GNSS GPS accuracy, beautiful high-contrast displays, and more. The Atlas 2 is the best tool to supercharge your sailing experience.
In the box:
Atlas 2
Mount
Qi Charging pad
Carrying case
MEET THE ATLAS 2. SAIL THE FUTURE
The team set out to create an instrument that would improve the on-water experience for sailors ranging from hardcore racers to recreational sailors.
The Atlas 2 is an all-in-one instrument, featuring highly precise L1+L5 dual-band GPS, a magnetic compass, heel and trim measurement, and more. Alone, the Atlas 2 is a huge step forward in small boat instruments.
The Atlas 2 also supports wireless links to select wind and water sensors, allowing a lightweight, wire-free experience, or a backup instrument on keelboats. All of this data is displayed on a vibrant screen, both day and night, and recorded in the data log for analysis.
The Atlas 2 has over 100 hours of battery life, can easily be taken from boat to boat, and offers customisable displays to show what you want to see on the water.
Class compliant modes restrict the features of the Atlas so that it can be used while racing in almost any class, allowing a single instrument to reach a wide range of sailors.
VISIBLE
Configure displays to meet your needs. The A2 is visible through polarized glasses and has an anti-reflective coating.
ACCURATE
The most accurate GPS on a sailboat. Measure positional accuracy in centimeters and trust the Atlas 2.
VERSATILE
Add sensors to display speed, water temperature, wind data,load, and more. Or, use the device stand-alone.
CORE MEASUREMENTS
- Position
- Velocity
- Heading
- Heel
- Pitch
- Barometric Pressure
- Data logging at 10 Hz
INTERNAL SENSORS
- 25 Hz L1+L5 dual-band, multi-constellation GNSS receiver
- 3-axis magnetometer
- 3-axis gyroscope
- 3-axis accelerometer
- Ambient light sensor
- Temperature sensor
- Barometric pressure sensor
FUNCTIONS
- Distance-to-line
- Time-to-line
- Countdown timer
- Shift tracking
- Leeway angle and velocity
- Heel consistency
- Stripchart view
- VMG
POWER AND BATTERY
- Run time: 100+ hours
- Integrated 4600 mAh rechargeablelithium-ion battery
- Qi-compatible wireless charging
DISPLAY
- High contrast, sunlight-readable
- 160 degree viewing cone
- 4.4" transflective LCD screen
- 320x240 pixel resolution, 91 ppi
- Digits up to 90 mm height (landscape),40 mm height (2 metrics, portrait mode)
- Optically bonded 1.1 mm Gorilla Glass
- Multi-layer anti-reflective (AR) coating
- Water-shedding hydrophobic coating
- Adaptive red backlight
- RGB LED array
DATA STORAGE/SYSTEMS
- 256 MB integrated storage
- 100+ hours, depending on logging rate
- Android and iOS compatible
THE MOST ACCURATE INSTRUMENT ON THE WATER. EVER.
Atlas 2 is the first sailing instrument capable of dual band, L1 + L5 GNSS reception. Measure positional accuracy in centimeters, only on the Atlas 2.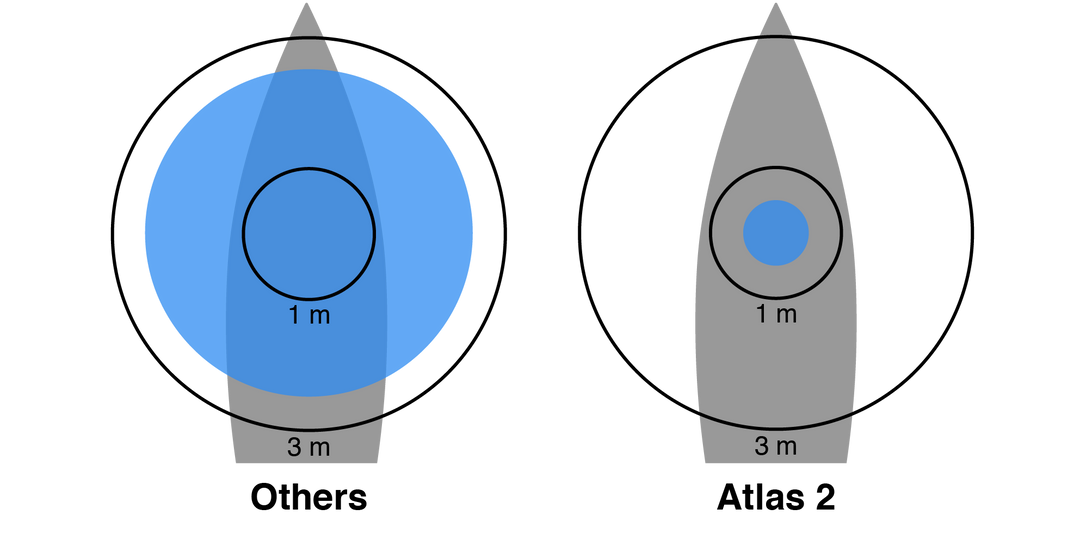 Optimized for L1 + L5 signals, correcting for ionosphere error and reducing multi-path interference
Multi-constellation reception of GPS, Galileo, GLONASS, and BeiDou
25 Hz update rate: a 40% improvement
Unprecedented 50 cm positional accuracy
A MAGNETIC COMPASS THAT KNOWS WHERE IT'S GOING.
Atlas 2 takes compass performance to a new level. The state-of-the-art magnetic sensor is 4 times more sensitive and capable of resolving heading changes as small as 0.1°. An advanced motion fusion algorithm and adjustable damping keep the compass steady—even in the roughest conditions. Because if your compass doesn't know where you're heading, everything else it tells you is wrong.
Gyro Stabilization

Unmatched 0.1° heading resolution

Motion fusion at 50 Hz

Reference angles so you never miss a shift
WIN THE START. EXTEND.
If you win the start, you control the fleet. It's why we refined every aspect of starting for Atlas 2.
State-of-the-art sensors. Sophisticated algorithms that give numbers you can trust:distance and time-to-line.
Starting screens deliver the situational awareness you need to get to the line on-time and at full speed. But, don't just take our word for it; ask any number of top pros & World Champions. They'll tell you the same thing—Vakaros delivers starts that help them win.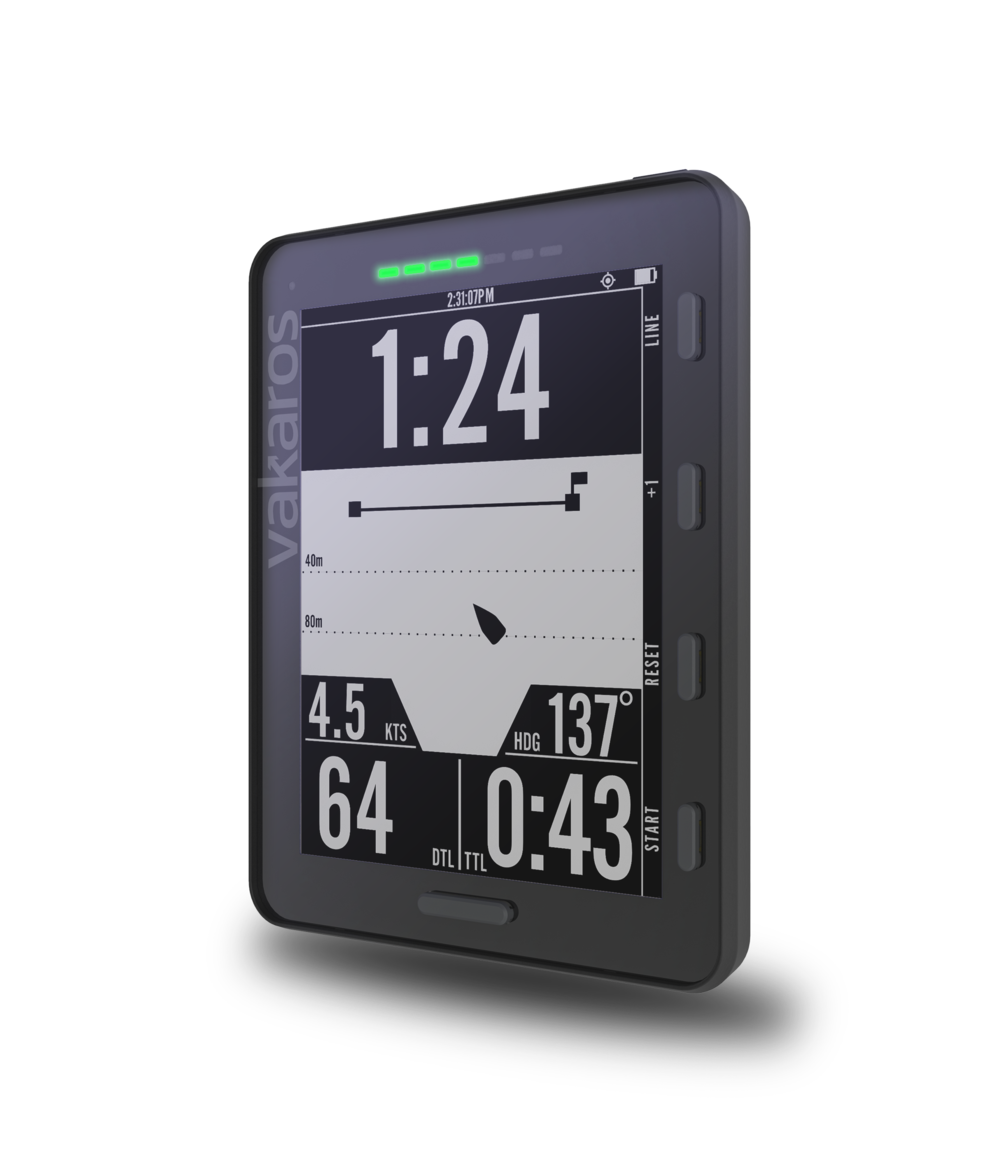 ENTER THE ATLAS ECOSYSTEM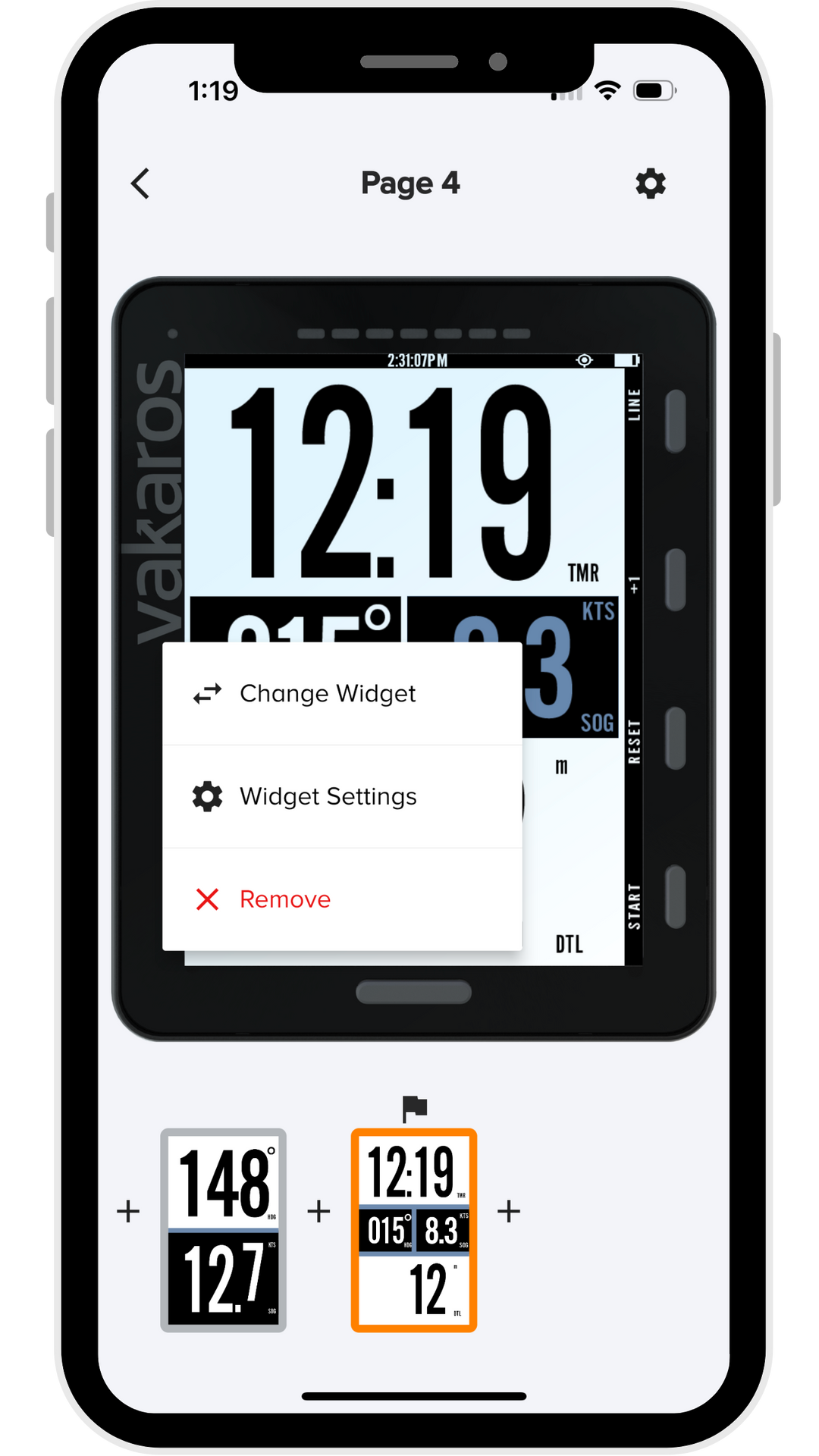 CUSTOMIZE YOUR UI
Build any combination of widgets using our Layout Builder to fully customize your Atlas 2 experience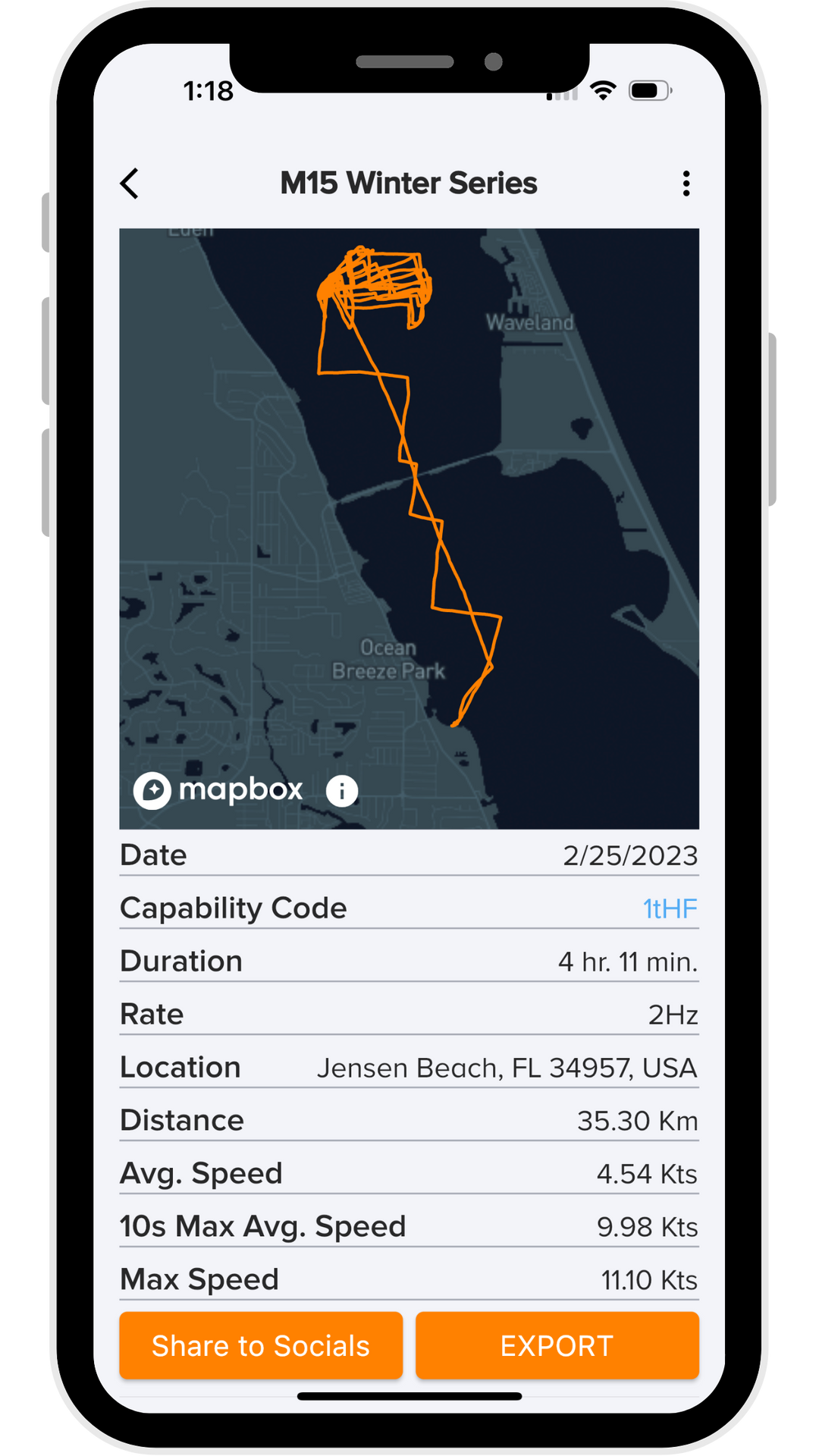 COMPILE YOUR DATA
Every time your Atlas 2 is on, it is logging valuable telemetry data.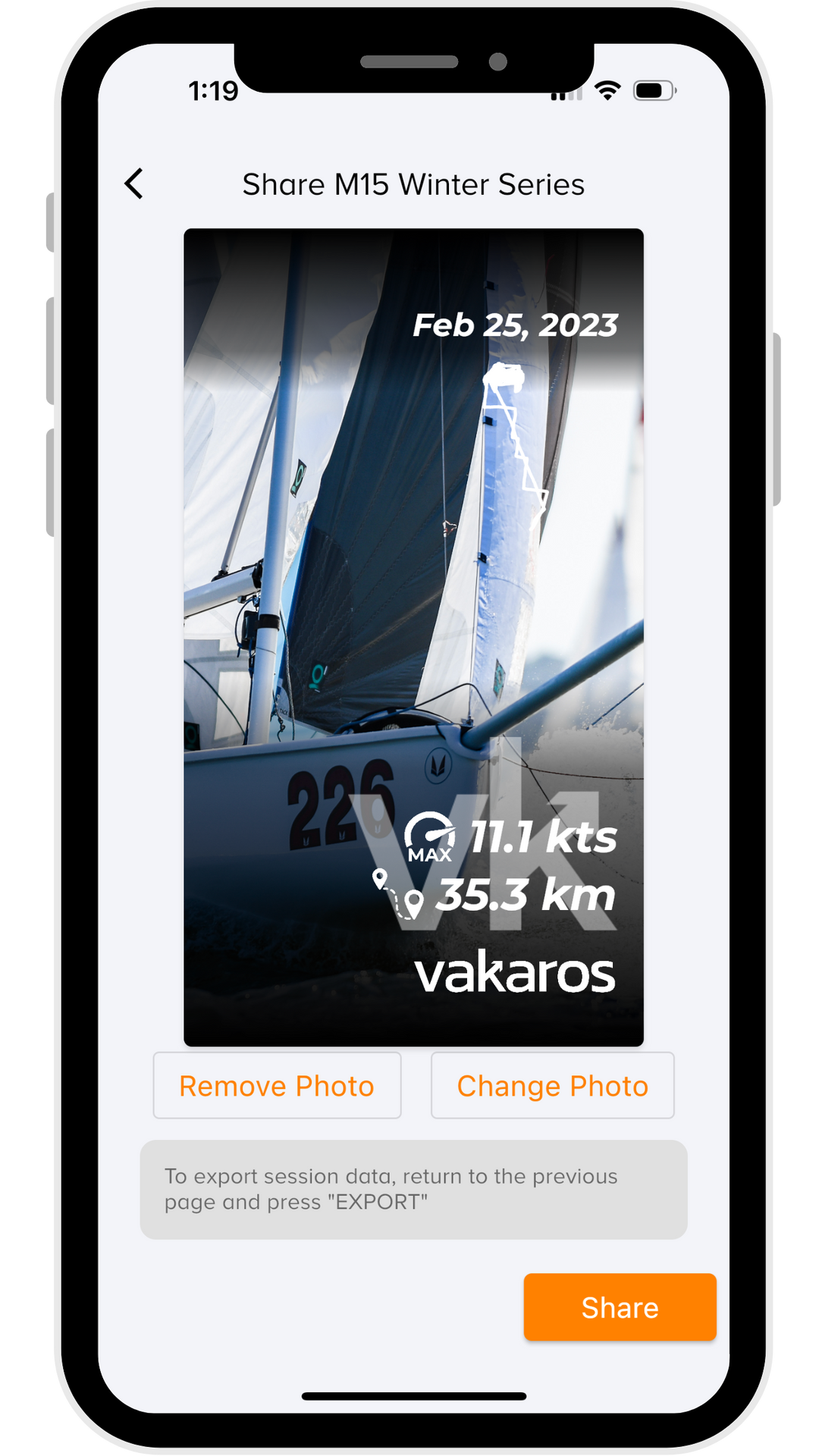 SHARE YOUR SAIL
Add your photo. Show your friends. Share your sailing.
100 HOURS OF BATTERY, RECHARGABLE WITHOUT WIRES
What's better than wireless charging? Wireless charging and a battery that lasts for 100+ hours. Or to put that another way, over 4 days. Week-long regatta? No problem. Distance race? We've got you covered.
And if you ever do run it down, a 20 minute charge over breakfast will last an entire 10 hour day on the water. Better yet, the oversized Lithium Ion Polymer battery has capacity to spare, capacity we use to intelligently maximize charging cycles while delivering best-in class battery life. Because you'll want to use it for years to come.